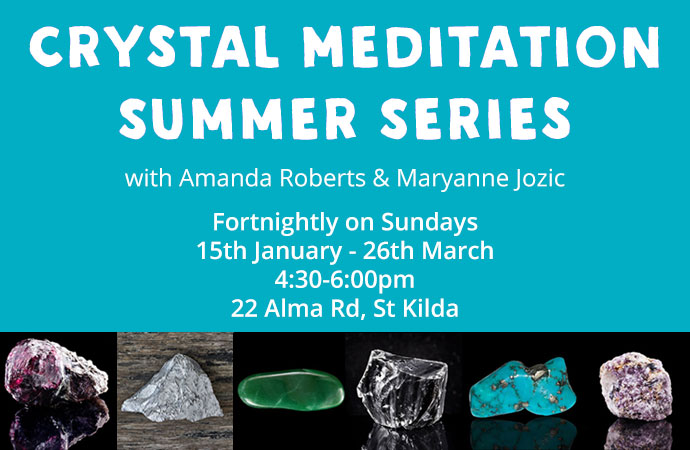 Join Amanda Roberts and Maryanne Jozic as they host a fortnightly Crystal Meditation over summer in the beautiful gardens of Stable Health Clinic in St Kilda.
You're invited to journey deeper into the magical world of the crystal kingdom! Crystals aren't just pretty objects. They offer healing, wisdom, insight and connection to our own divinity.
The theme for each session will focus on the Crystal that's most active on the day, according to the Liquid Crystals cycle. Sitting with a crystal on the day that frequency is most active is a potent way of understanding the messages that crystal may hold for you.
You can attend just the sessions that appeal to you, OR view them as a six-session meditation course, and come to them all!
Your level of experience with meditation is not important – beginners to advanced are all welcome.
Dates & Themes
Feb 12th – Jade: Dream Realisation

Mar 12th – Turquoise: Expression of Spirit

Mar 26th – Lepidolite: Conscious Feeling
Where & when
Time: 4:30-6:00pm
Where: In the gardens outside of our clinic room at Stable Health Clinic, 22 Alma Rd, St Kilda
(If the weather plays up, we'll move inside!)
What we'll do
Discussion about the crystal of the day

Calling in the frequency of the day's crystal by drawing the symbol of the crystal's master deva

Taking a dose of the Liquid Crystal*

A guided meditation with the animal totem of that crystal
*You'll have opportunity to purchase a Liquid Crystal remedy at the end of the meditation
BOOKINGS ARE ESSENTIAL
Cost
Single session $25
Prepay 3 sessions $60
(Bookings are transferable but not refundable)
Book and pay
Step 1: You can use the payment button below, or contact me if you'd like to make payment via bank transfer.
Pay for a single session:
$25
[stripe name="Return to Source Wellbeing" description="Crystal Summer Series – Single session" amount="2500″]
Pre-Pay for 3 sessions:
$60
[stripe name="Return to Source Wellbeing" description="Crystal Summer Series – Pre-pay 3 sessions" amount="6000″]
Step 2: Complete the booking form below
Yes! Please book my spot for the Crystal Meditation Summer Series for the following date(s):
What to bring with you
A pen and notebook if you like to take notes
A cushion to sit on
Sunscreen and a hat (if the weather is warm!)
Water in your favorite drinking bottle
About your hosts
Amanda Roberts and Maryanne Jozic are Kinesiologists and Liquid Crystal practitioners sharing a clinic room at the beautiful Stable Health Clinic.
They're both PASSIONATE about their work, crystals, meditation, the beach, mermaids, magic, animals and of course… coffee.